In Claudia Piñeiro's
A Crack in the Wall
, the middle-aged and rather hapless Pablo Simó has a chance to impress a lovely young photographer when she asks him for five of his favourite buildings in Buenos Aires. His first thought, upon waking up, is that there are far too many buildings on his mind.
So he crosses out the Kavanagh, the old offices of the Diario Crítica, the Obras Sanitarias building on Avenida Córdoba, the Banco Nación and the Olivetti, facing Plaza San Martín...
Here they are. Very Art Deco, wouldn't you say?
Kavanagh building.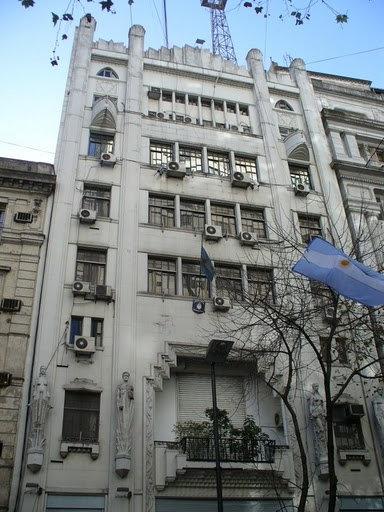 Old offices of the Diario Crítica (those air conditioners sure are unsightly)
Then there's the eclecticism of the Obras Sanitarias building, the headquarters of the Buenos Aires water company:
And a somewhat disappointing neo-Classical National Bank building:
And a run-of-the-mill, to my eye at least, International-style Olivetti building:
Indeed, Simó wanted to be a bit more imaginative than to select the typical. After all, after decades of faithful and staid married life, here was a chance at freshness.
…it's not that they don't deserve to be on his list but that, to different degrees, they are emblematic of this city's architecture, buildings that anyone might choose, and he doesn't want to be anyone.
He chooses Mario Palanti's building on 1900 Avenida Rivadavia, an art-nouveau facade on 2000 (or was it 2100?), and Virginio Colombo's building on the same street at 3200, and two more by Colombo on Hipólito Yrigoyen that faced each other. Then he adds a housing complex on Calle La Rioja; a rationalist building on Alsina and Entre Ríos, and the Liberty at 1300 Paraguay; then, the best balconies in Buenos Aires - Avenida Riobamba, and 3800 Beruti … Then he realises he has more than five, and has to cut back, and eventually ends up with the following list:
Palanti, the art nouveau, the three by Colombo which, by cheating, he counts as one, plus Liberty and the railings: that's five. A sneaky five, but he reckons that's OK.
I'm having a bit of trouble with the Palanti: this Italian architect built the Edificio de los Atlantes at 1916 Avenida Rivadavia - is that the one Simó had in mind? If so:
1916 Avenida Rivadavia, by Mario Palanti.
Here's the Liberty building:
And here are a couple of Virginio Colombo's:
3200 Rivadavia, by Colombo.
Facade of 2562 Hipolito Yrigoyen.
Can't seem to locate those balcony railings, though...